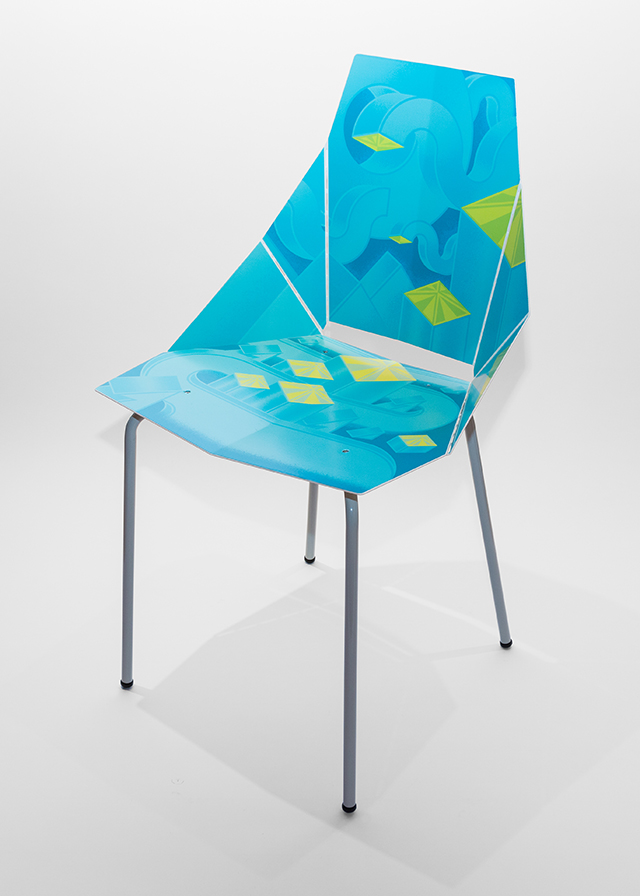 In case you didn't know, AIGA turns 100 in 2014. There are many events and projects planned around the AIGA Centennial. Seattle designer James Stipes, who works with Tether, participated in the AIGA Centennial Commemorative Chair design challenge where chapters around the country were invited to customize Real Good chairs from Blu Dot in a way that represents their city.
James learned about the project from his friend, designer Jonny McConnell. I asked him about his creative process for designing the Seattle chair.
"I was encouraged by Calvin Carter and the other stakeholders to come to the table with some strong concepts representing the city of Seattle. I took inspiration from both our city, and the lush natural environment that is surrounded by it. I think Seattle is an incredibly beautiful city, especially in the way it both incorporates and is placed within a gorgeous Pacific Northwest landscape. From there, I really just drew on elements of some of my favorite art movements – from Art Deco to Memphis – to generate a unique illustration with a color palette representative of Seattle."
The Centennial Commemorative Chairs were part of the AIGA National Design Center exhibition Facing Forward: AIGA at 100 in New York City.
Melanie Biehle is a creative consultant and editorial and brand content creator. Learn more about about Melanie and her work at melaniebiehle.com.