How does design thinking come into play when it comes to solving social problems? How can you make an impact and still make a living? We've started the conversation here in Seattle and have kicked off phase one of our master plan.
On Thursday January 29th, designers and change-makers gathered with the AIGA Seattle Design for Good committee and the Pour Back team, at Pike Brewery to have a beer and kick off a series of events designed especially for those of us who want our work not just be good, but do good.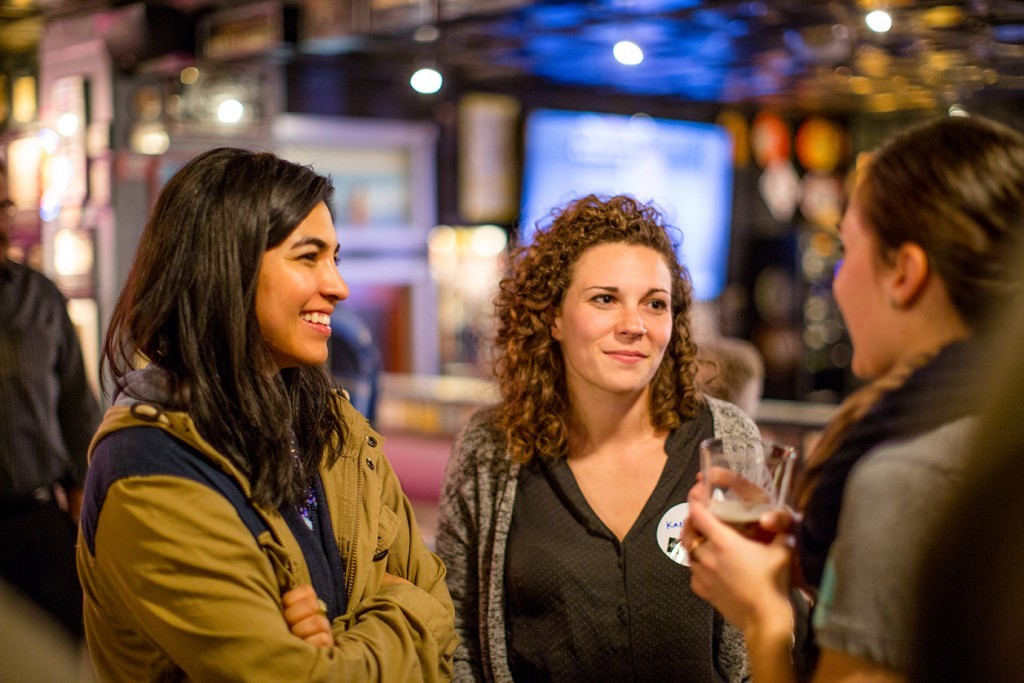 Created as an initiative by AIGA National, Design for Good is a platform that provides opportunities for designers to build their practice, their network and their visibility by using their talent to address problems and create positive social impact. Our local chapter already has a large contingent of designers committed to this, but the design for good crew is excited to have even more join the cause.
There was a great turnout at the kickoff event. The drink line was long, but the conversation was plentiful and inspired.
At the height of the evening Joel Meyers, committee member and board member got up – literally, on top of a chair – to say/shout a few words. He introduced the new Co-Responsibility Director, Annie Hill, who will be joining Tessa Levine-Sauerhoff to oversee AIGA Seattle's design for good and sustainability initiatives. Together with the rest of the committee, Joel introduced a series of programs for 2015 that will result in non-profits and designers working together to create change – all around the theme of food. And who doesn't like food?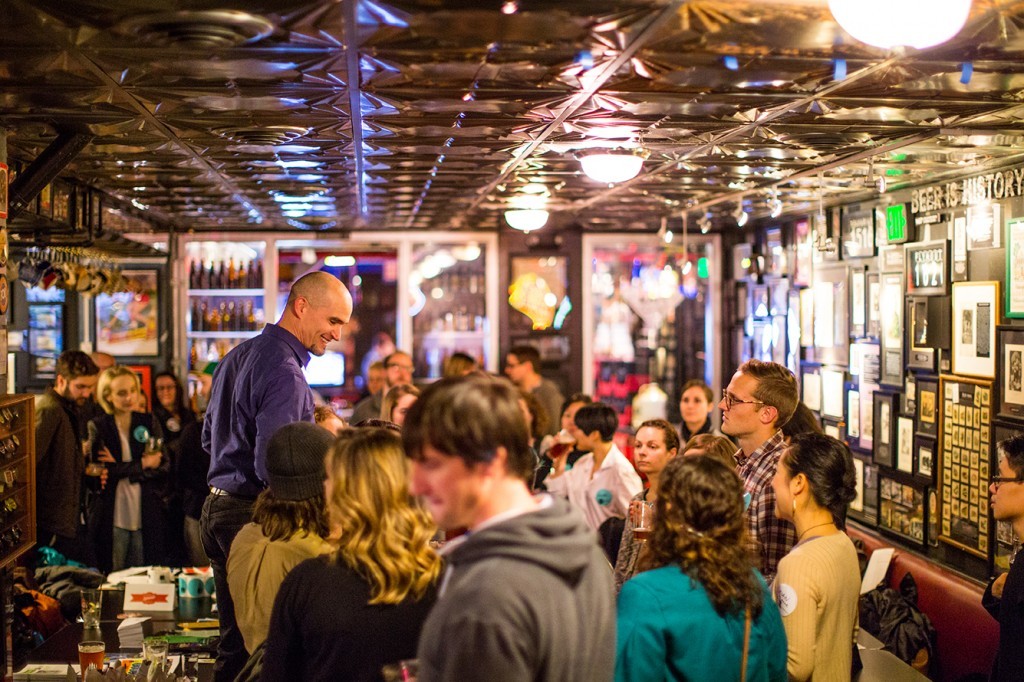 So far a running list of food-related nonprofits and social ventures is in the works. Farestart, Operation Sack Lunch, Beacon Hill Food Forest and Stockbox Grocery are just a few of the organizations that our teams are reaching out to. Planned as a series of events that build upon each other, nonprofits will have the chance to learn about design thinking, gain insight and clarity into the design process and develop projects to be assigned to creative teams in the matchmaking event. The climax of the series will be a chance for the community to see and celebrate truly inspired work and hear about the results.
April - Design for Good Scope-a-thon: Designers and creative thought-leaders will help nonprofit organizations diagnose communication challenges and map out the project(s) necessary to address them.
May - Paper Airplane: Using the AIGA Living Principles as a launch pad, designers will collaborate and explore how human-centered design can help create new solutions for challenges facing our society. The workshop will focus on the challenges surrounding food waste and the potential of urban farming.
June - Design for Good Match-Making: A match-making session bringing together vetted creatives and nonprofits to collaborate on the projects outlined during the Scope-a-thon.
Fall - Design for Good Exhibit/Party: Celebration and presentation of successfully completed projects by the creative and nonprofit partners.
If you are a designer, strategist, project manager, writer or other creative looking for a way to make a difference, please sign up to stay informed and tell us what you are passionate about. If you know a local nonprofit or social venture that should get involved, please email designforgood@seattle.aiga.org.
Stay tuned for specifics on dates and ticket sales.