The housing and homelessness issue is an emergency in our community. We have all seen the negative effects due to lack of affordable housing in the area, population growth and cuts in aid from federal and state governments. The region's current needs outweigh shelter capacity, leaving too many seniors, families and individuals sleeping on the street. More than 45 individuals died while homeless on Seattle streets in 2015 alone. The 2016 One Night Count found 4,505 individuals living outside and unsheltered in King County, a 19 percent increase over 2015. Youth homelessness is also growing rapidly; Seattle classrooms have nearly 3,000 students without stable housing or shelter. Rents have skyrocketed. Some neighborhoods are no longer affordable for longtime residents. The question is: what can we do about this?
One person cannot solve the housing and homelessness issue in Seattle and the greater region. Neither can one organization. But we all can help.
This year's Design for Good Changemaker Series is starting on April 14th with our Changemaker Kickoff. We are uniting teams of creative professionals with nonprofits and social change organizations to make a difference towards this issue by using design thinking, sustainable frameworks and creative tools to help organizations advance their missions.
Volunteering on a creative project team is a great way to use your skills to help tackle the housing and homelessness challenge in our area with tremendous opportunity for networking and learning. You'll collaborate with a diverse set of people and gather strategies and frameworks you can take with you.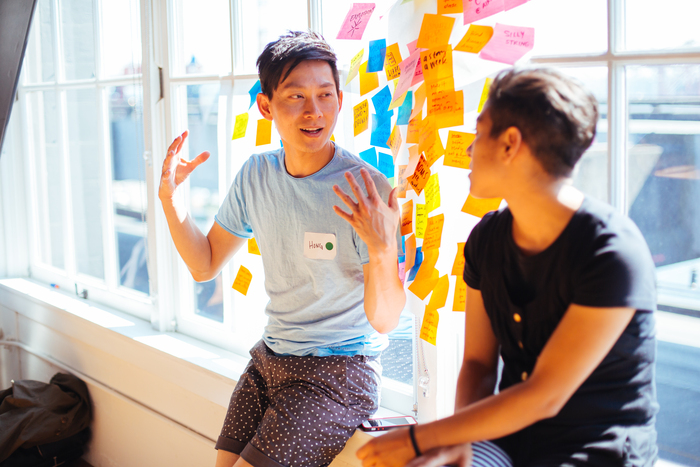 But most importantly, you can make a tremendous impact. It's like participating in a long-term hackathon that provides key deliverables to tackle real social challenges.
"Work that feels like it has some actual impact and real meaning—that's a really great thing to be a part of."
The inaugural Changemaker Series focused on local food challenges. Madeline was a volunteer project team member on the Delridge Grocery Co-op team last year. Here are her thoughts on her experience and the impact she made:
---
I'm not a designer. But I owe a whole lot about the way I explore and analyze the world to design thinking, which has been a staple in my life since I used to hang out at my dad's architecture firm as a kid—where adults got to draw all over the walls and play with blocks.
As a young professional I often plan my articles by writing and rearranging tons of tiny paper scraps, I'm always carrying pens and paper for doodling or making origami, and I used to have a dedicated wall in my apartment for sorting out thoughts that looked straight out of CSI.
I've long suspected that most adults in "non creative" professions don't spend enough time drawing on the walls or playing with blocks—or any number of other activities that can break one out of tired thought patterns and make space for new ideas. But only recently did I learn many of these strategies are an essential part of design thinking methodologies.
That's why I jumped on the opportunity to be part of AIGA's Changemakers Series in Seattle this summer, where food-concerned nonprofits came together with designers, artists and city employees to find new ways to tackle problems with our flawed industrial food system.
How do you advertise an emerging grocery co-op in seven different languages when you only speak one and have limited time and money? Or run an effective outreach campaign for Fresh Bucks to encourage SNAP users to buy more fruits and vegetables? How can you successfully orchestrate flashmob-style sales events for unexpected bumper crops of berries?
In a system where people have become increasingly disconnected from the sources of their food, we explored ways that people from various professions could step out from their silos and collaborate across fields to improve their communities.
At the first event I found myself immediately at home with the strategies we used to begin defining these problems and gathering potential solutions—throwing out ideas on sticky notes all over the walls, building prototypes, exploring the language with which we approached challenges, and more.
After a flurry of brainstorming activities and inspiring success stories from designers at Paper Airplane, we broke down into design thinking teams assigned to each nonprofit at Matchmaking, and prepared to spend several weeks working away at these "puzzles."
I joined the Delridge Grocery Co-op (DGC) team, which is tasked with finding a way to do outreach in one of the most diverse neighborhoods in the city—both ethnically and linguistically.
Social impact organizations need to have access to the power of creativity and design thinking, the same way major corporations do. If more fields begin to cross over and collaborate using design thinking and human-centered innovation tools, design can begin to escape the confines of aesthetics and product design, and empower us to think more holistically, build better cities, strengthen our communities and build a brighter collective future.
As someone who doesn't usually spend time around designers, it's been a wonderful experience to see how much can come from the minds of people who learn to approach the world with a high level of curiosity, empathy and creative vision.
What came from my team's collaboration with DGC was a fresh logo and branding strategy, a heavily researched guide for outreach, and all of us learning a lot about what nonprofits struggle with while trying to make change in a city like Seattle.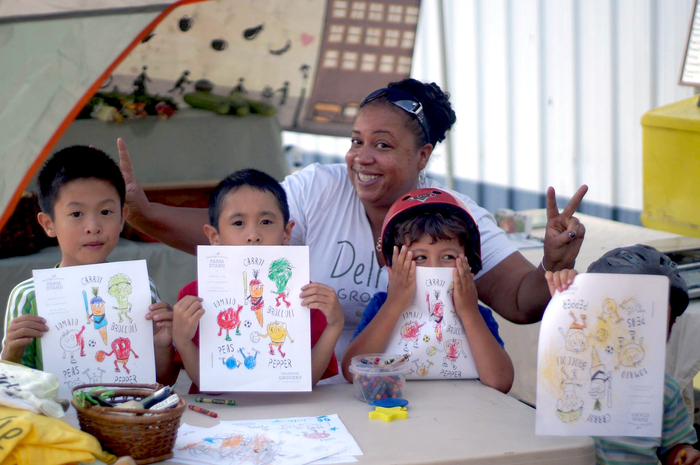 One of the most prominent things we observed was that many nonprofits with similar or even the same goals end up missing opportunities to collaborate and build upon each others' efforts. While that happens for a variety of reasons we only brushed the surface of, it seems to me that interdisciplinary efforts like the Changemakers series have a lot of potential to help those connections happen. And design, by it's very nature, is a holistic and interdisciplinary way of approaching a problem.
Hopefully projects like the Changemakers series can continue finding new ways to approach and address local problems in our community by bringing together creative professionals and social change organizations.
Madeline is a writer, performer and multidisciplinary artist who loves to tell stories; especially ones that live at the intersections of art, science and human madelinejo.pressfolios.com
---
We're looking for professionals like Madeline who want to use design thinking principles and creative skills to help make a difference in our community. If you're a designer, researcher, project manager, strategist, marketing manager, developer, photographer, copywriter or jack of all trades, please apply to be part of a project team. Learn more and help us spread the word!