How can design thinking help address social change? How can you personally make an impact on local challenges?
The Design for Good 2016 Changemaker Series kicked off with a bang of inspiration. This year's series is focusing on the local housing and homelessness crisis. Featured keynote speaker Mark Randall of NYC's Worldstudio walked through his journey of combining community engagement and design thinking to approach social problems in new ways.
His agency, Worldstudio supports initiatives that highlight creativity and design as a tool to create positive social impact. Randall shared in depth stories of how a spark of an idea could be a catalyst to major change.
There was one impactful story that hit particularly close to home in terms of theme and location:  Jason van Dyk from Vancouver BC wanted to bring nature to people who needed help and hope at the Vancouver Union Gospel Mission (UGM). His design and creative efforts helped create a special program called UGM Expeditions to serve their homeless residents struggling with addiction. This encompasses two types of nature retreats to outreach to the homeless population and longer trips for men in their alcohol and drug recovery program to learn wilderness survival skills as a special transition to a new life.
Design can ignite change. But first, we must better understand or define the challenges to begin to empathize. Josh Hall from the City of Seattle addressed the state of homelessness in the city and the city's response to it. Some quick facts that he shared:
In King County, one in three residents pay 30% or more of their income towards housing expenses
The 2016 One Night Count found 2,942 individuals were living unsheltered in Seattle, 4,505 across all of King County.
Seattle funding makes available 1,800 emergency shelter beds each night, which is roughly 80% of the total beds available across King County
When the average apartment rent increases by $100 per month, homelessness increases by 15% in urban areas and 39% in rural/suburban areas
The Seattle-King County Continuum of Care has 10,122 homeless people. This is the third largest number of homeless persons nationally, behind New York and Los Angeles
Attendees were inspired by Randall's stories about tackling social issues creatively and were empowered to do something to help after hearing about the state of the homelessness crisis. Kristen Faiferlick was previously in nonprofit development, is currently a UX design student and project team candidate. She is excited about the series: "Homelessness is an issue that's easy to ignore, but extremely difficult to solve. The homeless in our community rarely have a voice, and the nonprofit partners are one of the only ways their voice can be heard and amplified. My hope is that through the series, I can be a part of this collective voice and help develop and share solutions to the complex issue of homelessness."
At the end of the evening, representatives from each of the following Changemaker Series partners shared their organization's challenges and stories:
"Having worked in the nonprofit sector, I know how valuable it can be to have passionate and skilled professionals contributing to the nonprofit mission. When I met the nonprofits at the Kickoff, I was impressed by their thoughtful approaches to a difficult challenge," Faiferlick explained, "They're all doing great work in the field, but clearly want to do more—that's where AIGA and the Changemaker Series come in."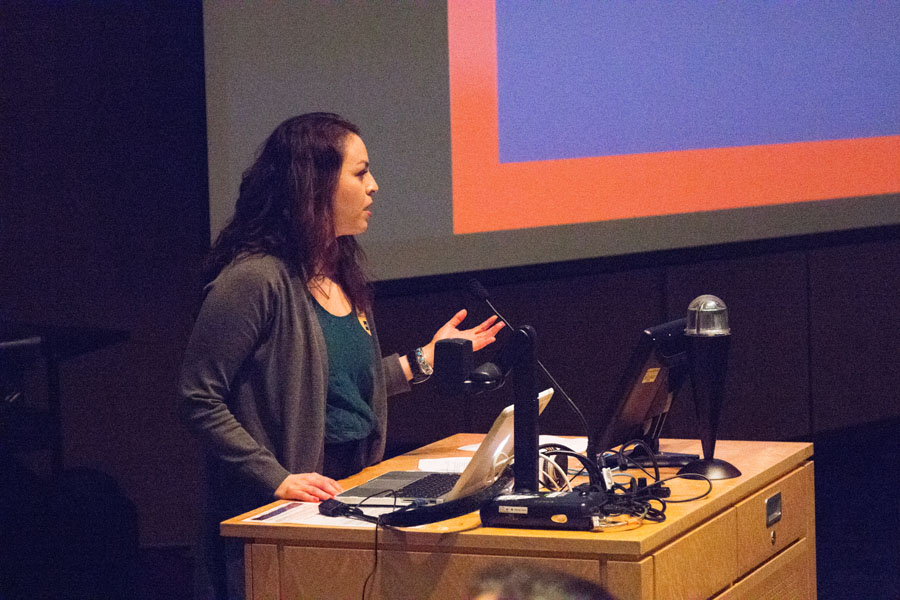 Barbara Rodriguez is the Communications Coordinator for Sea Mar Community Health Centers which provides health and human services in Washington state, specializing in services to Latinos. Her group is looking forward to the next step in the series. "Sea Mar is excited to participate in the Changemaker Series and collaborate with very talented creatives who will contribute to develop a rich array of creative solutions and bring imaginative ideas to the topic of homelessness."
She has discussed that it's important to stop homelessness before it starts and find new approaches to challenges. "As a health communicator the more you know about a particular health topic, the harder it is to think about it from someone else's perspective. That's what we call the curse of knowledge. We look forward to thinking outside of the box and generate a radical solution to this problem."
Thinking out of the box is the next step. Part two in the Changemaker Series is to ideate at the Workshop Weekend.