How does inspiration spark action? The 2016 Design for Good Changemaker Series provided inspiring stories and posed a challenge at the Kickoff event: how can design thinking help address social change and tackle local housing and homelessness issues? The next step in the series served as a catalyst to turn the desire to help, ideas and inspiration into tangible plans.
95 talented candidates including project managers, designers, researchers, copywriters, marketers, strategists and developers applied to be project team members to serve as volunteer creative agency teams to be paired with the social change and nonprofit organization partners on their homelessness challenge missions.
How do you start a project with a challenge but no end solution in mind? How do you get a group of strangers to get to know one another enough to work on a project together? What is the design thinking process anyways? The Changemaker committee selected 36 creative volunteers organized into six project teams to participate in the Workshop Weekend hosted at Artefact's workspace along with representatives from the change organizations in order to address these questions.
Teamwork
Forming new, functional creative teams is the foundation of the Changemaker Series. Introducing people to each other is easy but building a team is an ongoing process. Team members loosened up with icebreaker exercises, then shared their hopes and fears with each other in order to share common anxieties and passions. The teams got a crash course in being a part of a high performing team, providing constructive feedback and conflict management before moving on to the human-centered design process.
"I was a little nervous at first because I really wanted my team to be as motivated as I was to provide value to our client, Real Change," said project manager Pragathi Balasubramanian. "I thought, 'We only have 3 short months to help make a difference! That's so little time!' Apparently, I had nothing to worry about because my team is just fantastic."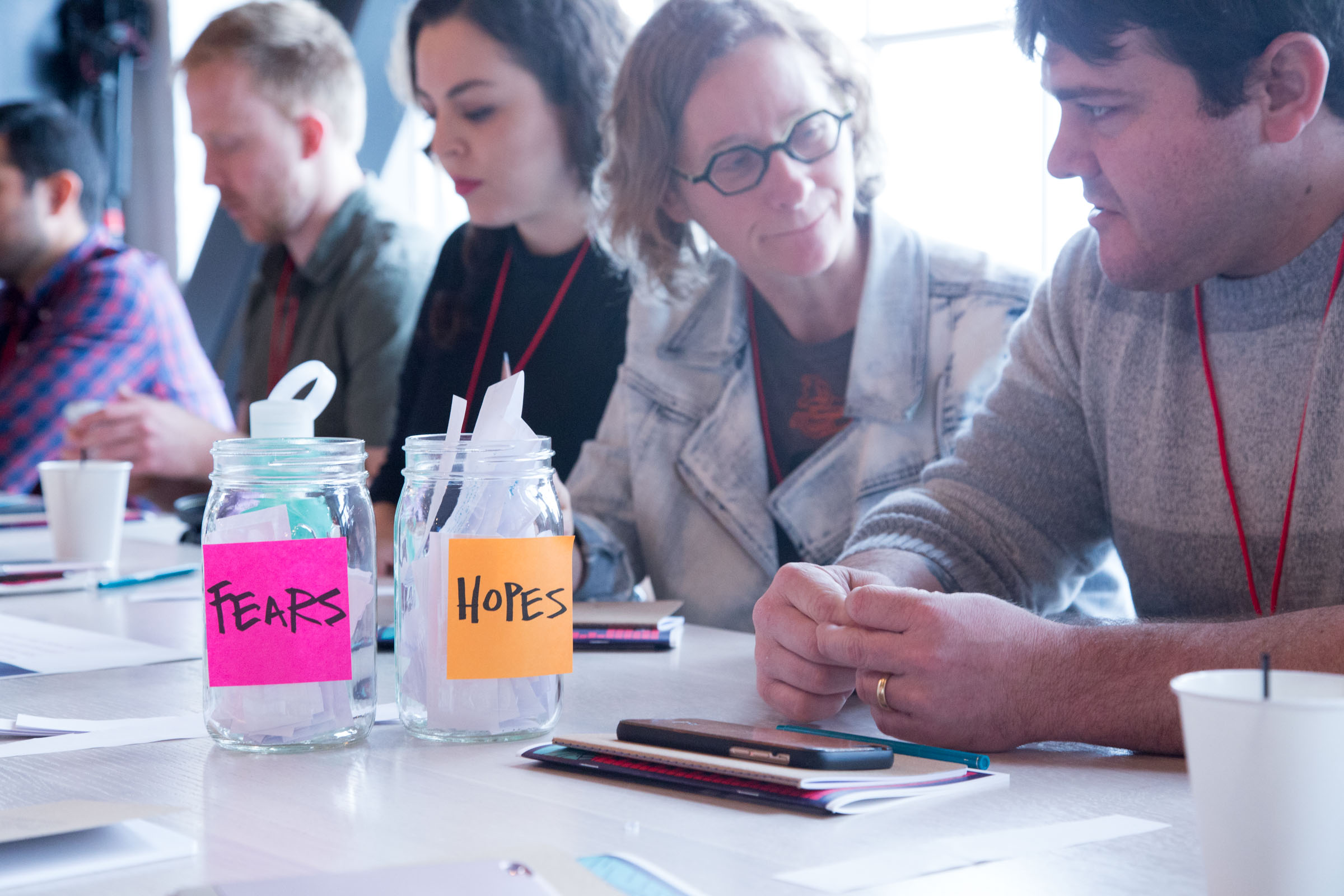 Members of the Sea Mar project team discuss their hopes and fears of working on a project.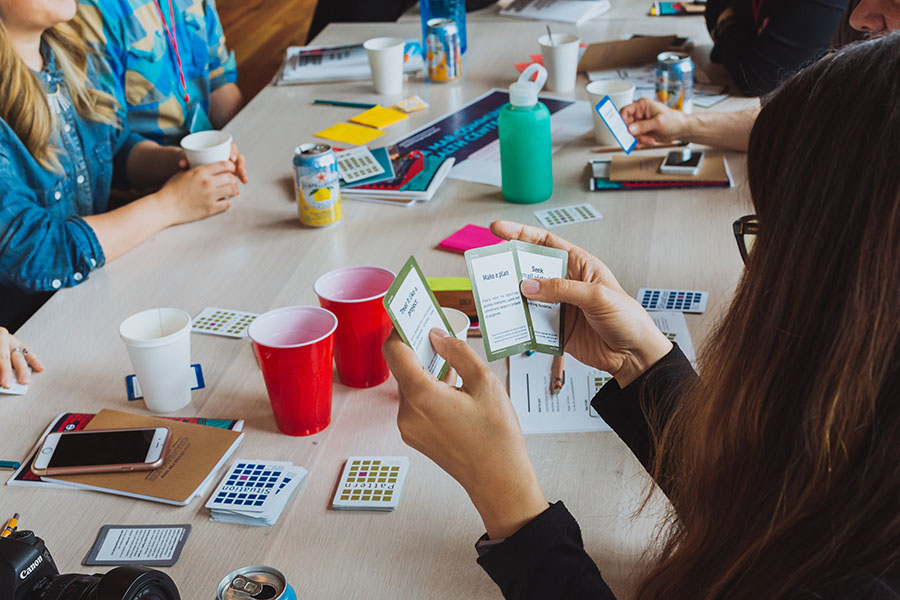 Apples to Apples? Cards Against Humanity? Teams play the Surviving Design Projects game in order to learn and discuss appropriate (and less appropriate) methods of conflict resolution.
Empathy
Research is the cornerstone of design and empathy is the first critical step to tackle design challenges. How do you understand people within the context of the design challenge? Felix Chang of Artefact discussed the processes to better understand users and clients as well as tools to conduct interviews. Then team members were set loose upon Pioneer Square to conduct research and empathize with people who are at the forefront of the homelessness epidemic: case managers, employees and resident assistants who work with homeless or previously homeless individuals on a daily basis; business owners and workers in the area who interact with the homeless or are impacted by the issue; and homeless individuals themselves.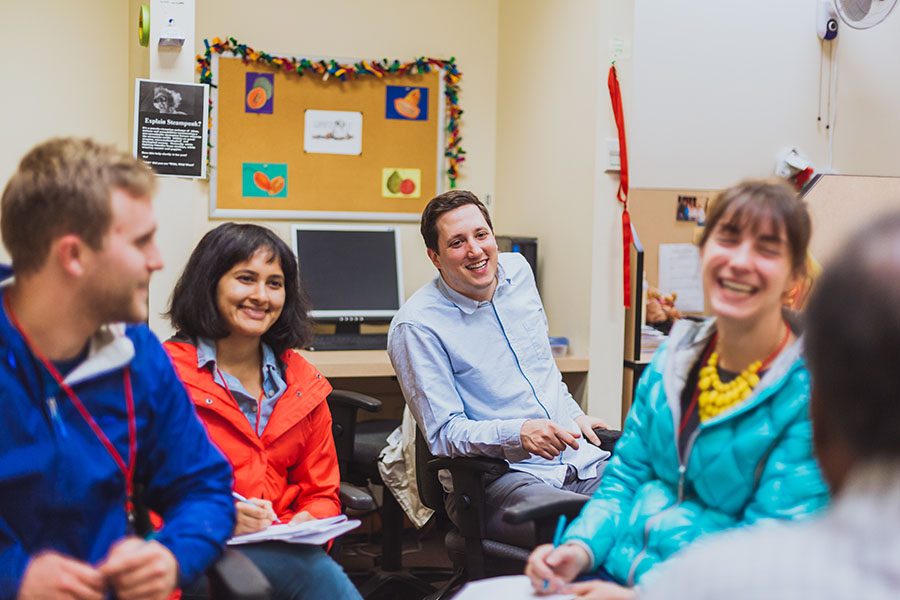 The DESC team conducts interviews to better empathize with volunteers and workers at DESC.
James Pearson from the DESC team noted, "We got lucky that our client had a facility only a few blocks away, so we walked up there to interview some of the actual stakeholders for our project. It brought a new level of reality and context to the project we were stepping into. It's easy to think in abstractions and ideals when first learning about a challenge. Stepping into the reality of that challenge makes the constraints much clearer. It was interesting to navigate the natural suspicion and unease people feel when you ask to interview them. You have to build that first bit of trust and rapport really quickly to get them to open up. Once you do, it's amazing how people want to be heard, want you to ask good questions, want to share their unique view of the world with you."
Define
Erik Molano of Photon Factory presented on the Define phase of the design process in order to bring clarity and focus. This provided the teams the opportunity to reflect upon their challenge statements after better understanding their clients and users.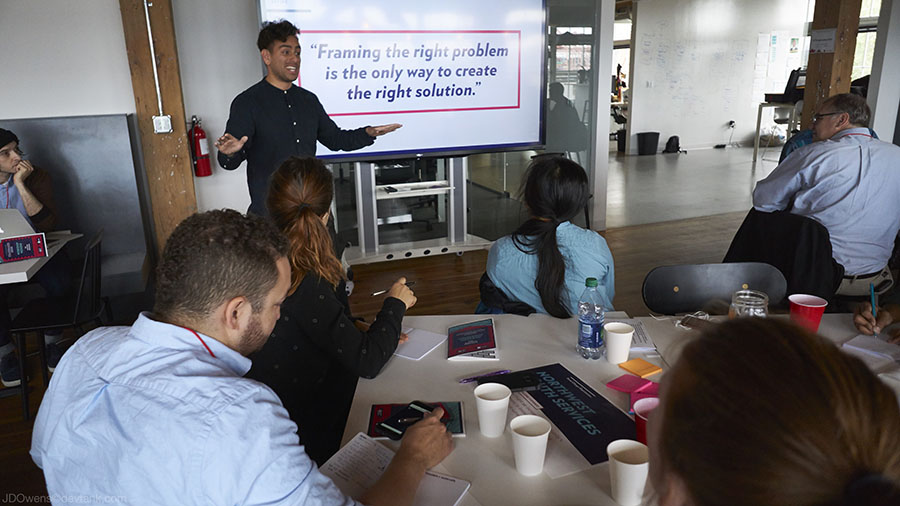 Ideate and Prototype
The next phase in the process was to think out of the box. Kat Davis of Frog led the teams on brainstorming and inspiration exercises. Creative teams got crafty and built prototypes and mockups of their ideas.
Rachael Cicero of the Sea Mar team was excited about her team creating a shoe insert in ten minutes for the purposes of storing important health information and personal effects. "The prototyping process really brought our team together. For being perfect strangers, it really felt that we all shared the drive to be creative and make something that had direct meaning and impact to our challenge. When we first thought of a shoe insert as storage for important possessions, we giggled at the notion of it, when in actuality we realized it was more of a realistic solution than we thought."
Testing
Testing was an important step for teams to present their ideas and receive feedback from other project teams. Participants could better understand their users, come up with new perspectives to their challenge and continue to cycle through refinement of the idea.
Cicero's team initially prototyped a shoe insert but refined their idea. "We were actually quite surprised at the positive feedback we got and how excited people were to see us develop it through another round of ideation and prototyping. Outside perspective is such an important part of the creation and design process. It removes the bias a team can form towards their own work," she noted. "During this second round is really when we let our imaginations soar. 'Why just an insert? Why not an entire shoe?' And that's when the 'Tin Shoe' was born. This prototype gave us the confidence and motivation we were looking for to kickoff this project for the next few months."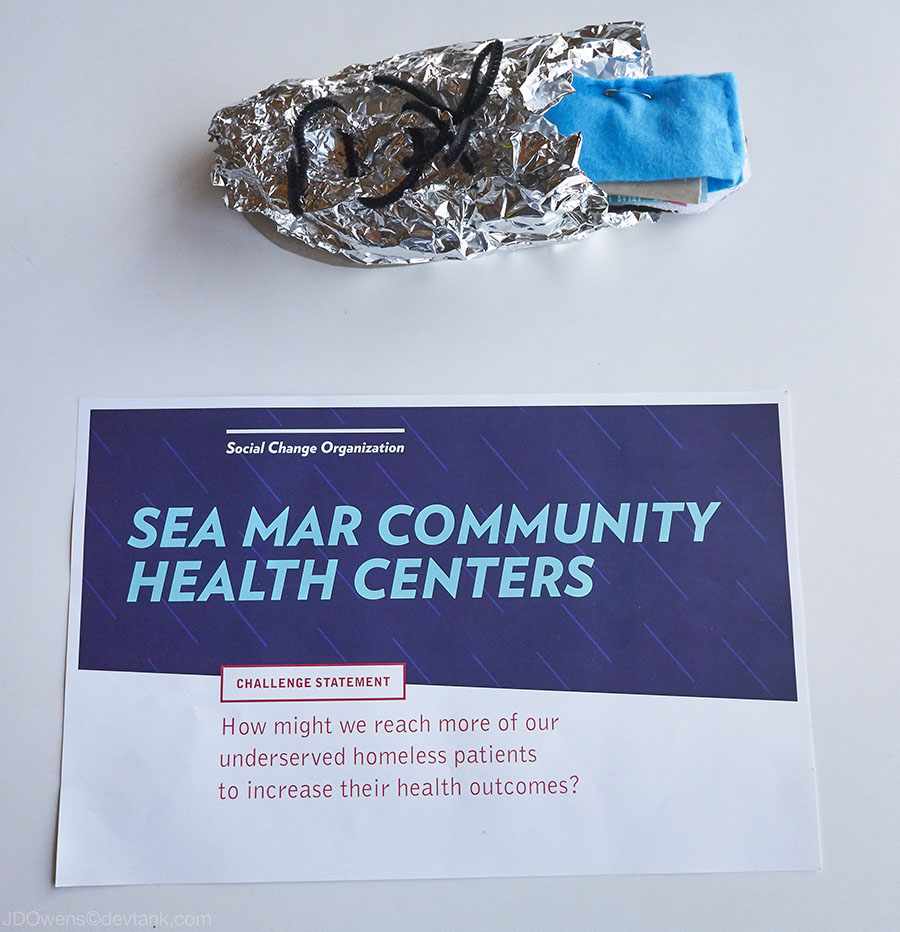 The tin shoe prototype complete with inserts containing important health and contact information.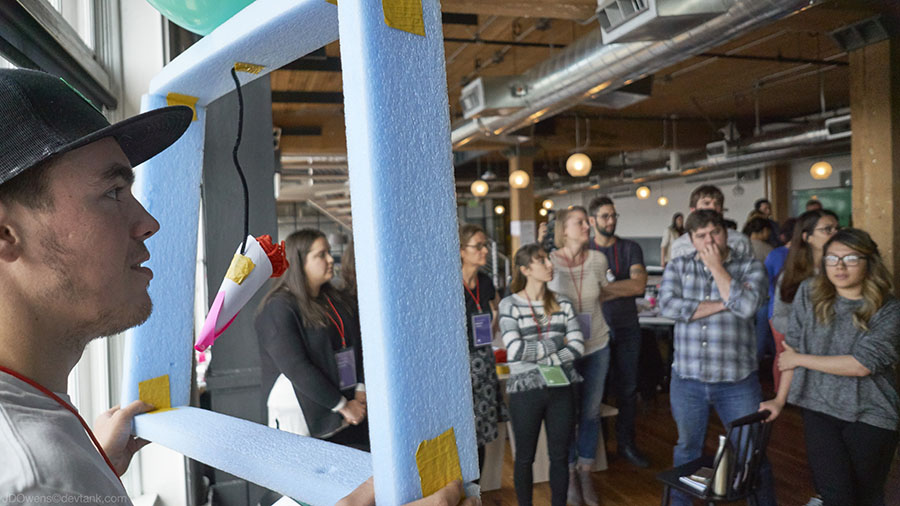 The All Home team presents their ice cream truck prototype in order to solicit feedback and improve upon the idea.
Go Forth!
Teams were energized following the fun and inspiring prototype and testing exercises. The remaining step was to set up a game plan for the next three months of project work and defining a statement of work for the change org clients. The Workshop Weekend participants discovered tools, frameworks and processes designed to help them be successful and tackle their design challenges over the summer but most importantly, they became teams.
Balasubramanian adds, "I got to do two of my favorite things at the workshop weekend: meet people and learn something new. My team members are all motivated, they're bringing their skills to the table and best of all, putting it to great use. The workshop really added to this dynamic because we're definitely using many of the lessons as a basis for the work we do."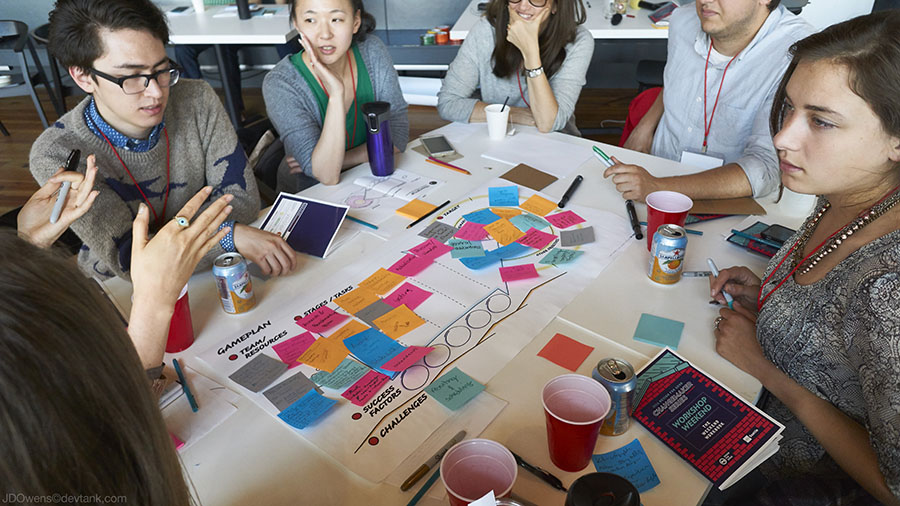 The PSKS creative team goes over their gameplan for the way forward.
Stay tuned &mdash we'll have guest blogs and insights over the upcoming months from project team members documenting their journey through the design process and the impact they hope to make on homelessness challenges.
A special thanks to the Changemaker Series and Workshop Weekend Sponsors:
Patron
Supporter
Teams
An extra special shout-out to the project team members and client representatives from the change organization partners:
All Home
All Home representative - Felicia Salcedo
All Home representative -  Mark Putnam
All Home representative -  Kira Zylstra
Eric Aker
Akhil Chugh
Patty Miller
Nicholas Kelly
Christiana Wu
Tina Hong-Sandmel
Committee liaison - Whitney Thoren
DESC
DESC representative - Don Rupp
DESC representative - Jonathan Gerig
Lea Lonnberg-Hickling
James Pearson
Garret Goodhue
Kristen Faiferlick
Shree Lakshmi Rao
Committee liaison - Ann Vu
Northwest Youth Services
NWYS representative - Heather McGuiness
Derrick Martin
Jesse Baker
Ava Keating
Minh-Anh Nguyen
McKenzie Shane
Committee liaison - Ken Zinser
Peace for the Streets
PSKS representative - Rick Crawford
Claire Wilburn
Melissa McCauley
Emmerline Wu
Kathryn Simpson
Morgan Conley
Tracy Taylor
Committee liaison - Gina Davis
Real Change
Real Change representative - Tim Harris
Pragathi Balasubramanian
Julie Simon
Bonnie Tran
Suzanne Boretz
Janice Wang
Lindsey Castellon
Committee liaison - Cody Wallis
Sea Mar Community Health Centers
Sea Mar representative - Barbara Rodriguez
Sea Mar representative - Pablo Casanova
Rachael Cicero
Garrett Lyon
Dinah Coops
Cynthia Wong
Paloma De Murga
Matt Swecker
Committee liaison - Michael Barakat
...
Thank you to all of the great applicants who wanted to be part of our project teams. Please stay involved with Design for Good and join us at the Changemaker Showcase coming in September!