Kick off Thanksgiving week with one of Seattle's most acclaimed restaurant owners and chefs for a thoughtfully prepared dinner by Renee Erickson and her talented team of chefs. Throughout dinner Renee will share personal experiences and tips that have helped her become the successful and powerful leader she is today. Q&A and a hearty discussion will follow dinner. Space is limited so reserve your seat now!
Tickets are $65 for AIGA members and $80 for potential AIGA members. Each includes a complimentary glass of wine or non-alcoholic beverage.
Sample family style menu:
Sea Wolf and Columbia Bakery bread and butter lettuce with smoked pork, apple, and cider vinaigrette 
Roasted salmon 
Cauliflower with romanesco, carrot, and seseme 
Huckleberry chocolate torte
(Allergy or dietary restrictions can be accommodated and must be requested by November 11th. Send requests to womenlead@seattle.aiga.org.)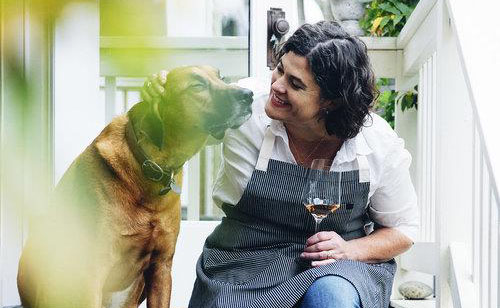 Renee Erickson is a James Beard award-winning chef, author, and co-partner of six Seattle establishments: The Walrus and the Carpenter, The Whale Wins, Barnacle, Bar Melusine, Bateau, and General Porpoise. As a Seattle area native, Renee's restaurants highlight the bounty of the Pacific Northwest with a European sensibility. Bon Appetit has compared her to M.F.K. Fisher, Elizabeth David, and Julia Child.
Renee's culinary career began in 1998 when she bought the Boat Street Cafe and over the next 18 years transformed it into a northwest institution. Her brand, Boat Street Pickles, can be found at fine grocery stores across the North America and Asia. Dedicated to creating an environment that nourishes the body and soul, her restaurant designs (created with business partners Chad Dale and Jeremy Price) have received national recognition. In 2014, Erickson published her first cookbook, A Boat, a Whale & a Walrus, to critical acclaim. It won the 2015 PNBA book award--the first for a cookbook. Renee graduated from the University of Washington with a BFA and lives in Seattle's Ballard neighborhood with her husband Dan and dog Arlo.
This event is part of AIGA's national Women Lead Initiative, known as "WomanUp" in Seattle, which is committed to empowering women in the design communuty and advancing the vital discourse on issues facing women in the workplace. WomanUp celebrates the achievements of women in the design community, cultivates awareness of gender-related issues, and builds knowledge and leadership skills. It also connects creatives by facilitating relationships within and beyond the design industry. This event is inclusive of gender, ethnicity, race, and all backgrounds. AIGA appreciates a rich conversation and we invite you to attend.
Questions or want to get involved? Contact Kirsten Kenning Kent at womenlead@seattle.aiga.org.