Design Swarm
Why doesn't every American vote? Why are those who do vote often uninformed? How can we make sure every person's voice is heard?
With a critical election approaching this November, we need a solution. The problems of voting have been studied by political scientists, psychologists, and rational choice philosophers. What would happen if designers entered the conversation? Would our human-centered thinking and creative superpowers lead to solutions?
Join AIGA Seattle at the Design Swarm for Democracy to help us tackle these questions. At the Design Swarm, you will collaborate intensely with a team over the course of six hours in a series of high-velocity agile sprints. Your team will begin by knowing very little about a problem area, and will be led through phases of envisioning, experimenting, and validating that will bring you to a tangible result. The Design Swarm technique harnesses the unique strengths of individuals like yourself and the collective genius of teams to facilitate disruptive ideas and creative group breakthroughs.
Design Swarms have resulted in innovations in wicked problems like homelessness, refugee crises, population aging, and disaster relief around the world, from Melbourne to Hong Kong, from Silicon Valley to the Arctic Circle. Originally developed in Seattle, the Design Swarm technique will now be applied in its hometown to a problem of democracy.
 
The Problem
AIGA Seattle's Design Swarm will revolve around fostering an engaged electorate and the complex issues around voting. As a democracy we face a variety of challenges related to motivating people to vote, removing barriers to voting, and educating citizens on the issues they're voting for. Cultivating an active, engaged, informed American voting population has proven to be no easy task. Our official problem statement will be announced in the coming weeks!
 
What to Expect
Design Swarming is a highly-structured, hackathon-like process that requires no pre-work or previous knowledge of the problem. No previous design experience is required either; Swarms succeed when teams are made up diverse groups of designers, technologists, entrepreneurs, and many others.
Swarms are fun, high-energy experiences that solve complex and urgent problems in very short time, but they are also boot camps in learning cutting-edge twenty-first century design techniques. Design Swarm participants also learn how to pitch and convince others to support or fund a creative idea. The event lasts six hours, and we'll provide all meals, snacks, and tools that you need. 
About the Swarm Leader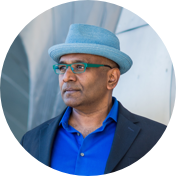 Surya Vanka is a designer, corporate leader, educator and author who has worked at the leading edge of designing physical and digital experiences for over twenty-five years. He is founder and principal of AUTHENTIC, a design consultancy in Seattle. He was previously director of user experience at Microsoft. Prior to Microsoft, Vanka was a tenured professor of industrial design at the University of Illinois at Urbana-Champaign, a fellow at the prestigious Center for Advanced Study and he authored two books on design. Surya is an accreditor for university curricula in the United States and Europe, leads cross-company design initiatives and serves on the advisory board of DMI (the Design Management Institute) and board of Design in Public. Vanka is frequently invited to keynote the most prestigious conferences, and has won top speaker awards three times. His work has appeared in numerous publications and news programs, including Form, I.D., Design Council, WIRED, Interactions, the BBC and National Public Radio. Vanka initiated and was part of the core team that created the DMI Design Value Scorecard, and is the creator of a lightweight, agile and adaptable design technique called Design Swarms – both of these practices are quickly being adopted in business, nonprofit and education across the world.
About the Venue

The Cloud Room is a shared working environment and private member's club that's enriched by the people who occupy it. The stunning, light-filled space creates an environment of opportunity for both independence and connection with other engaged people in a range of fields.
Our Partners
Special thanks to our partners, sponsors, and participants:



About Design for Democracy
It's an election year, and politics dominates the news cycle. How can designers and creatives get involved? Are there places that design and democracy intersect? Can we use design to redefine interactions between our government and its citizens? Can we design a better future for our democracy?
AIGA Seattle is exploring these questions through local 2016 programming for the AIGA National Initiative, Design for Democracy. Since 1998, Design for Democracy has collaborated with researchers, designers and policymakers to achieve AIGA's goal of demonstrating the value of design by doing valuable things.
Questions
Questions about the event? Want to volunteer for the Design for Democracy series? Contact Jenna Blake, Vice President of Initiatives, at initiatives@seattle.aiga.org.