Break away from your desk to visit an amazing company and listen to local design leaders present original perspectives that will inspire, shift, or interrupt your relationship with the design space. Bring your sack lunch—or order one with your ticket—and join us on Monday, May 7th at Smashing Ideas.
Motivational UX™: The Art & Science of Digital Behavior
It is estimated that there are roughly 6 billion connected products in market, and by 2020 this number is expected to jump to 50 billion. Behind the scenes, there are nearly 7 million technology makers striving to make this happen. How does your product stand out from the overcrowded sea of digital experiences to make the most actively engaging digital products possible? Enter Motivational UX™, a user-focused approach to innovation that brings together behavioral psychology, game design thinking, and 'best-of' UX practices. Smashing's Design & Strategy experts will guide you how to evaluate a project…be it in the early stages of an idea of a product or service that is already in-market…to identify the principles of motivation that will give you a strategic edge over your competition.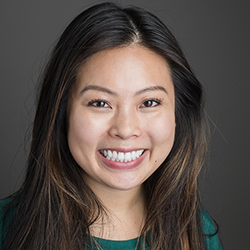 Lulu Xiao, Senior Strategist
As a critical member of Smashing's Strategy team, Lulu is an advocate for user-centered design and leads product envisioning and user research efforts for Fortune 500 clients. With five years of experience in tech consulting, she specializes in identifying consumer as well as client insights and validating value propositions to drive design and development decisions. On the side, she is consistently striving to build open, feedback-rich teams that enable organizations to achieve a more positive, productive culture. Currently pursuing a Master's in Human Centered Design & Engineering from the University of Washington and with a B.S. from the Wharton School at UPenn, her happy place is at the intersection of UX and business. Lulu's work has helped clients around the world and in a variety of industries – from Johnson Controls, Microsoft, Marriott, and Kraft/Mondelez to the U.S. Office of Personnel Management – create meaningful user experiences that meet their business objectives.
One of Lulu's dreams since childhood is to parent a pet teacup pig, who will likely be named Caesar. Outside of daydreaming about Caesar, you'll find Lulu building things, growing her whisky connoisseur chops (sorry Caesar, her love for puns is too great), or globe-trotting the world. She loves discovery and experiences that build empathy for different cultures and people.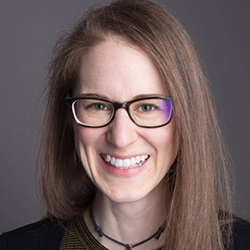 Katy Harrison, Designer
As a core designer at Smashing, Katy helps craft the visual and UX world for the agency's clients. A firm believer that the whiteboard is where true collaborative magic happens, her team-first approach helps build community within the agency and with our strategic partners. Katy is a fan of asking thorough questions to make sure all bases are covered and to get to core of how something — or someone works — which helps guarantee that clients' and their users' core needs are front and center. These clients range from Philips, Microsoft, and Penguin Random House to several that are too confidential in nature to share.
Jam band aficionado, bicyclist, dancer, and health challenge ring leader are just a few additional ways Katy is known around Seattle. She can also proudly boast that she is somewhat of an anomaly; someone that lives in the Pacific Northwest that was actually born and raised in the greater Seattle area, which for those that aren't familiar with the PNW, is as scarce as a Sasquatch sighting.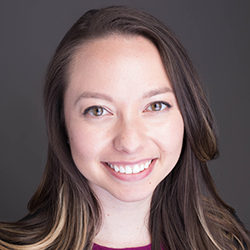 Kathlyne Taylor, Strategist
As a core member of Smashing's Strategy team, Kathlyne designs and executes user research for the agency's Fortune 500 clients. She applies her depth of experience in research, marketing, design thinking, and psychology to help clients uncover their user's needs, pain points, and goals in order to create customer-centric products that users love. Kathlyne has made a positive impact on digital initiatives for clients ranging from Philips, Johnson Controls, and Microsoft, in addition to helping Capital One with their brand strategy.
As one of the few people in Seattle to actually be born here, Kathlyne loves to explore new cuisine and restaurants in the area, under her after-hours title: 'Resident Foodie'. Her love of food is a natural companion to her love of travel, which has seen her travel extensively around the globe, picking up not one, but four, languages along the way...conversationally speaking.
Event Details
Arrive at Smashing Ideas between 11:30–11:45am to pick up your lunch and network before hearing from our insanely bright professionals. When registering with a lunch option, you'll choose from a lunch menu including vegetarian, gluten-free, and health-conscious options.
Follow @AIGASeattle and #LunchBox
The Lunch Box identity was designed by Tyler Engman.
Thank you to our host, Smashing Ideas.

Special thanks to AIGA Seattle's Annual Partner, Creative Circle.