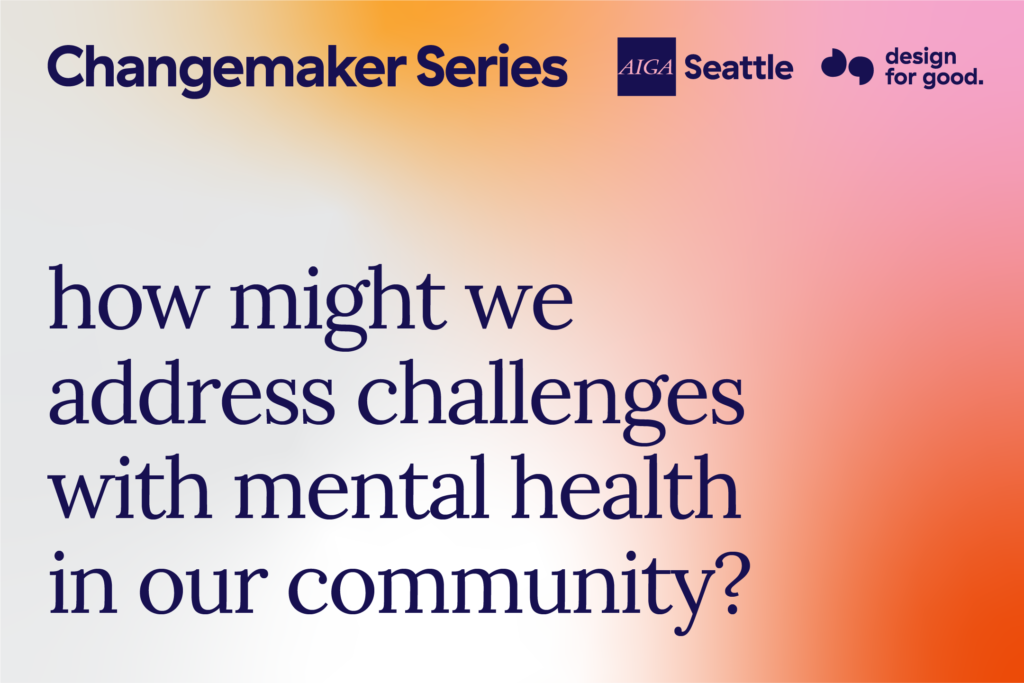 About this year's cause
Mental health is an important part of our lives that is rarely discussed and often neglected. Issues surrounding mental health impact our community:
1 in 5 U.S. adults experience mental illness. This rate increases to over 1 in 3 for lesbian, gay and bisexual adults.
20% of people experiencing homelessness also have a serious mental illness. 12% of all visits to U.S. emergency departments are related to mental health and substance use disorders. 37% of people incarcerated in state and federal prison have a diagnosed mental condition.
In a recent WA state survey, 12% of adults shared that they have experiences around stress, depression and problems with emotions that could benefit from treatment or support.
Depression is one of the top disabilities worldwide and some of our friends and neighbors are not able to get the support that they need. Unfortunately, Washington State ranks 47th in the country for mental health prevalence and access.
In 2020, the Changemaker Series is focused on supporting organizations and programs working to improve mental health through: increasing access to treatment and prevention; reducing the stigma that keeps people from seeking care; or improving emotional well-being in our community.
Project Teams
You Grow Girl! + Team Rise
Problem Statement
How might we create communication tools to better engage key stakeholders with all advocates and allies of the You Grow Girl! sisterhood so that they feel more connected to the mission of empowering girls and young women of color?
Creative Team Members
Paulina Alvarado, Jenn Hergert, Judilee Haider, Bryan Stromer
Somali Health Board + Team Ladnaan Collective
Problem statement
How might we make mental health easier to talk about in the Somali Community?
Creative Team Members
Hannah Burn, Kelly Neuner, Venessa Wong, Raphael Artieda, Ibbie Osman
Ryther + Team Chameleon
Problem statement
How might we make telehealth a sustainable solution for all of our current and potential clients, especially those experiencing homelessness?
Creative Team Members
Chantrelle Johanson, David Hammer, Erika Johnson, Lisa Danno, Summer Wang, Teresa Cummings, Tui Calvette
King County Sexual Assault Resource Center (KCSARC) + Team
Problem statement
How might we present KCSARC's comprehensive approach to ending sexual violence and providing hope and healing to survivors in a way that attracts and inspires new prospective donors to give?
Creative Team Members
Kale Lepak, Anat Mooreville, Kelsie Harris, Natalie Fajardo
Perinatal Support Washington + Team PS-WArriors
Problem statement
How might we enhance our understanding of our two distinct populations (expecting/new parents and healthcare providers) to better communicate with and engage them in our services and fundraising?
Creative Team Members
Christine Perlick, Hannah Rudin, Sierra Houk, April DiMartile, Linh Tran, Nathan Olson
Kent Youth and Family Services + Team Polaris
Problem statement
How might we promote a holistic understanding of Kent Youth and Family Services (KYFS) in order to improve staff, donors, and clients' ability to fully navigate its services?
Creative Team Members
Christopher Datsikas, Lydia Davison, Allison Laurel, Andrew Reaume, Jilian Ryan, Amy Carter, Bernadette Smith