In 2021 we're looking for new voices to help us reimagine the Changemaker Series.

AIGA Seattle launched the Changemaker Series in 2015 to spark community change using human-centered design. The Series has united Seattle-area nonprofits with creative professionals to solve design problems in such service areas as food access and insecurity, homelessness, immigrants and refugees, youth, environmental conservation, and mental health.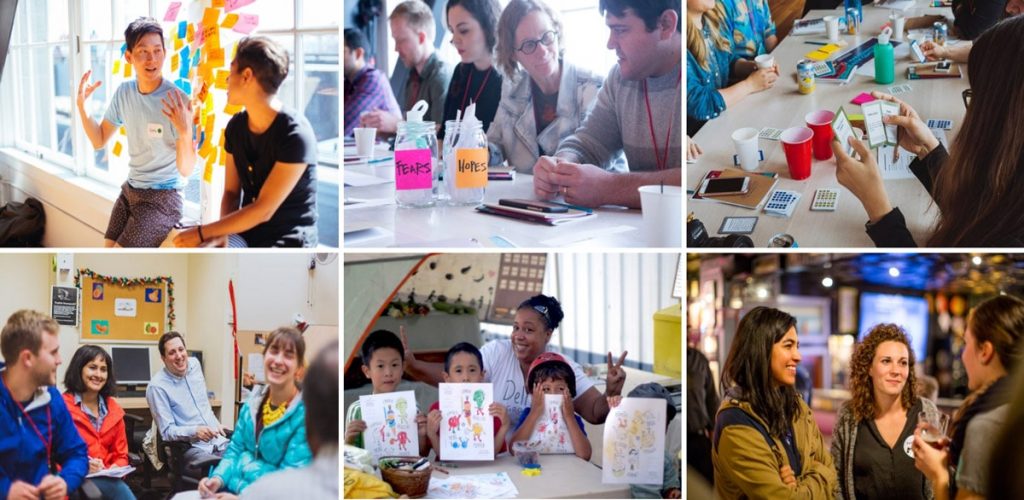 What's Happening in 2021
Now at our seven-year mark, the Changemaker Series is returning to the empathy phase of design. Our focus this year will be to evaluate how the Series is meeting community needs and examine how we may better champion inclusivity and equity in all facets of the program. This work will leverage the Equity-Centered Community Design framework developed by Creative Reaction Lab.
Reenvisioning a program is going to be messy, ambiguous, rewarding, and fun. We want to invite new voices to our team to achieve fuller representation of the community we aim to serve. Join us as we create a shared understanding of equitable design frameworks, and improve our understanding of Seattle area nonprofits and program participants' needs.
If this sounds like an exciting opportunity you'd like to join, fill out our brief form.
We are looking for co-creators who:
Are passionate about diversity and addressing issues with equity and inclusion in the Seattle-area community
Identify as or are an ally/advocate of BIPOC, affinity, or other under-represented groups. We want our committee to reflect our community and seek diverse voices to drive change.
Focus on understanding opportunities, pain points and needs of their audiences and desired outcomes
Are comfortable with ambiguity. The boundary of a volunteer role can be fuzzy and you may need to adjust to new milestones or accommodate others.
Thrive with collaborating with a cross-functional and virtual team of volunteers
Enjoy problem-solving and development of mechanisms and structure when processes are not well-defined
Love to use data to derive insights and actions, including taking calculated risks and making appropriate trade off decisions with incomplete data
Hold others accountable in the learning process by calling others in, vs calling others out.
Have connections with the Greater Seattle Area, even if you are currently located somewhere else
Embrace a growth mindset. We're learners. We will mess up.
Anticipated skill sets and experience needed
We aren't looking for degrees or titles. We are looking for the right mix of skills, experience, and mindsets.
Here's who we think we're looking for, but encourage anyone interested to get in contact with us using our form. Time commitments may vary based on role and where we are in the project.
Nonprofit Representative
Guide scope of research
Provide feedback on prototypes
Ideate potential interventions
Engage with nonprofits
Experience working for or with nonprofit in an official capacity (e.g. paid staff, board member, etc)
Equity Consultant
Provide feedback/guidance in equity design process
Support assessment and research process
Engaged in diversity, equity and inclusion assessment and practices.
Research Planner/Strategist
Design research plan
Identify outreach and data analysis strategies
Research planning and analysis experience. Developed and executed research strategy and tactical plans.
Research Implementation
Develop surveys and support data collection
Conduct interviews or focus groups
Conduct secondary research
Primary research experience and knowledge of qualitative and quantitative research tools and methodology. Conducted research interviews, surveys, observations, etc.
Research Analyst
Analyze and summarize project research
Review previous Changemaker feedback
Analyzed qualitative and quantitative data. Use of common analytical tools (e.g. Excel, Tableau). Data visualization expertise is a plus.
Designer
Brainstorm and develop prototypes collectively for consideration based on research findings
Working collaboratively to generate ideas, presenting design concepts, prototyping across a wide range of media and materials, testing and evaluating prototypes.
Project Manager
Support management of the project and keep efforts on track
Project/program management and coordination experience involving multiple work streams, stakeholders, and more. Usage and mastery of project management tools a bonus.
Project Storyteller
Explain the challenges of nonprofits identified in the research
Describe the approach of equity centered design
Experience in social media marketing, content marketing and strategy, and content or brand writing. Photography experience is a plus.
Project Librarian/Archivist
Keep us organized and informed through file management
Documents the process, including past and current artifacts and insights
Experience in organizing and documenting data from complex projects, informational management, digital asset management, and training. Research experience is a plus.
What's in it for you?
Learn and practice equity-centered community design principles
Be part of a mission-driven intervention that engages and benefits our community
Gain research and program development skills
Connect and build relationships with Changemakers in the creative and nonprofit space
Add impactful work to your portfolio or resume, including opportunities for research and design plans, community presentations, implementing equity-centered approaches, and published case studies
"Changemaker, as an idea, is all about improving our capacity to work together in service of the greater community.

Through the Series we create space for like-hearted people to connect, learn new ways of thinking, explore ideas, and make a difference right in our neighborhoods."

Ken Zinser, AIGA Seattle Board of Directors
How to get involved
If you're interested in joining us, please fill out our brief form.
If you're unable to volunteer at this time, but want to stay in touch, follow us on Instagram, Twitter or Facebook, or subscribe to our Design for Good newsletter.
Program History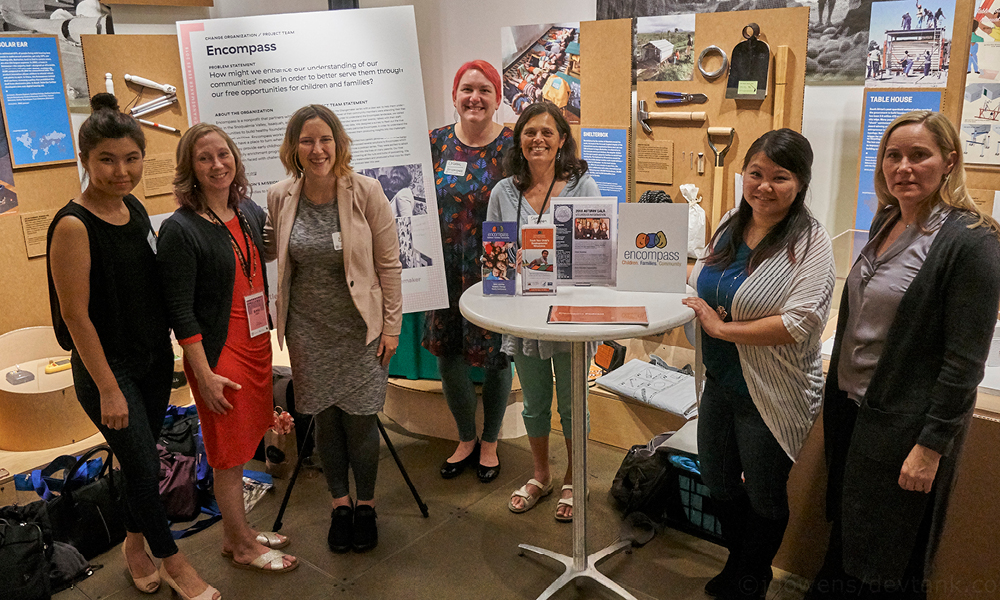 In 2015, AIGA Seattle hosted a series of design thinking workshops to educate creative professionals and local nonprofit organizations to spark community innovation. This became the Changemaker Series. In that inaugural year, we united eight social change organizations with over forty volunteer team members to address local food challenges.
We developed a design thinking curriculum and program for the second year, and selected 34 volunteer creatives from nearly 200 applicants to join six teams working with organizations to address challenges for homeless individuals. In the years since, we have partnered creative professionals with local organizations serving immigrants and refugees, youth, environmental conservation causes, and mental health.
Project teams provided user experience research, new visual identities and branding materials, updated web designs, workflow applications, social media campaigns and more. Causes, projects, and organizations have included: streamlining processes for DESC's in-kind donations with tools and reporting; increasing readership among millennials for Real Change; helping Encompass better reach parents with parenting education through a podcast, and more. You can check out the Changemaker Series 2020 Showcase and projects here.
Read more about past series
"What sort of impact do we expect, now that we've organized this project and are two weeks away from launching it? The Union Gospel Mission has about 50,000 supporters in Greater Seattle, and their goal is to convert about 10% of those to using the app or the service once per month…and if these people paid on average $5 for that buy-one-feed-one dish. We're talking about $25,000 in new revenue for the Mission to feed those in need. That would feed an additional 10,000 people."

Jonathan Kumar, Managing Director of FoodCircles
"Working with the Changemaker series and all of the creatives changed the way we think as a 'youth-serving' organization, specifically around the approach to solving our most pressing problems. Often in nonprofits, capacity constrains our ability and the time it takes to solve complex issues. We might be able to perform a quick fix or react as issues arise but it is difficult to find long term solutions.

Being exposed to Human Centered Design and a group of incredibly dedicated and talented Changemakers helped us create a thoughtful strategy to recruit youth into our program. Our messaging and promotional recruitment materials were not very clear on what Juma is as a transitional job program for youth. Because of that we were not hitting our numbers and many youth that did apply were not really sure what they were signing up for. Our team listened, led with empathy, and took these questions to our stakeholders, staff and youth clients. In the end, the youth themselves were a major part of creating a solution.

We could not be more excited to have a new toolkit of recruitment marketing materials that are youth focused, beautifully designed, and have crystal clear messaging. It was worth every second of our time and energy and something that will have a lasting impact on Juma and our work for years to come."

Mason Moore, Executive Director, Juma Seattle