AIGA Seattle and Hemlock Printers invites you to gather for bites and drinks to celebrate the launch of AIGA's
Eye on Design
magazine.
About Eye on Design

Issue #01, "Invisible," dedicates 160 pages to telling stories that reveal the code, data and grids lurking behind our designed interfaces. It explores intangible subjects like identity and mental health, made visible by some stellar illustrators and designers (plus a few surprises along the way). An extension of AIGA's Eye on Design blog, launched in 2014, the new magazine celebrates the printed form—because it deserves to be celebrated!—with gorgeous, eco-conscious printing by Hemlock and boundary-pushing design by Maziyar Pahlevan.
Event Details
Your $5 admission includes light appetizers and drinks, plus, for the first 100 people that show up, a free copy of the magazine (which retails at $19). This event is open-house style so plan to drop by anytime between 3:30 PM and 8:30 PM and stay for as long as you like. You'll get to socialize with other industry professionals as well as the amazing team at Hemlock Printers.
Special Thanks
Thank you to Hemlock Printers for sponsoring this event.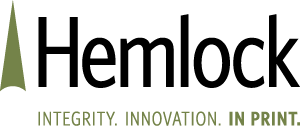 And special thanks to AIGA Seattle's Annual Partner, Creative Circle.